Point of Shipping: ABCO Wholesale Distributors 880 West Main St. New Britain, CT. 06052
Major Cities and surrounding areas we ship to: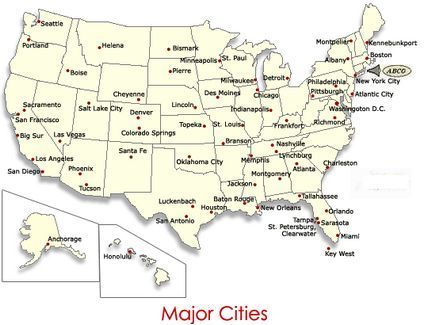 • UPS Ground - 5 to 7 business days + 24 hours to process the order.
• UPS 3Day - 3 business days + 24 hours to process the order.
• UPS 2Day - 2 business days + 24 hours to process the order.
• UPS Red Next Day Residential - Delivery within 1 business day + 24 hours to process the order.
• All orders require 24 hours processing time before shipping.
• ABCO/shop-abco.com does not process orders during weekends.
• No deliveries will be made on Saturday or Sunday.
• ABCO/shop-abco.com does not guarantee same day shipping.
• ABCO/shop-abco.com does not offer International/Canadian shipping options at this time.
• HI, AK & PR: Ground delivery & free shipping options are not available, only UPS air delivery options can be used. Exact delivery times cannot be guaranteed.

(Note: we can not ship to PO Boxes)

An estimated delivery date will be provided after your order is placed. These dates vary due to carrier shipping practices, delivery location and the items you order. Products may be delivered in separate shipments. Delivery dates noted apply to orders placed by 4:30 p.m. local time and where credit approval and product availability are confirmed by 4:30 p.m. on the same business day that the order is placed. Items shipped direct from the vendor may require an earlier order placement time. You will be notified of the estimated delivery date in a confirmation e–mail.

Shop-Abco Free Shipping Policy (UPS Ground available only in the 48 contigous states)
Free shipping is applied when a customer reaches the amount needed to qualify. This amount is subject to change without notification. NOTE: The free shipping policy only applies to orders shipped via UPS Ground, not freight carrier & not overnight, 2 or 3 day services for all and only shop-abco.com orders. This is due to the pricing difference between UPS Ground, and common carriers or UPS overnight services which are more expensive shipping options. Free shipping is not available anywhere outside the 48 contingous states, including HI & AK. If you are from HI or AK, and your order exceeds the specified free shipping amount, a shipping charge will still be applied to your card during your checkout. Only certain shipping options are available for overseas shipping, and rates are typically higher. These terms are non-negotiable.
Sales Tax

Sales tax is only required for orders shipping within our resident states of business. Therefore all orders shipping within Connecticut will be charged applicable sales tax.

Product Testing

ABCO/Shop-abco.com, like other e-tailers, ships items in the condition they were received from the original manufacturer/distributor. ABCO does not conduct product testing before shipping any merchandise.

Back-orders

ABCO does not sell backordered merchandise. We will never purposely charge a customer for an item that we do not physically have in stock at the time of purchase. Occasional inventory discrepancies may occur due to inaccurate inventory counts or possibly because the last few items on our shelves are damaged and/or not in a condition that we can in good faith sell to a customer. In that instance we will refund your credit/debit card for the item, along with any applicable tax fees and shipping charges. An automated email will also be sent to your shop-abco.com login to alert you of the situation.

Order status

ABCO will keep you informed of your order status via e-mail. All tracking information will be emailed to your shop-abco.com ID once your order has shipped (except when an APO/FPO is the shipping destination). You may also acquire information and other live updates by logging in to your account on our website.

Security

Security is our number one priority. All on-line transactions are sent through our secure server and encrypted with 128-bit technology. Once we receive your information through the internet, only trusted, authorized employees will process the payment to make sure your information is handled with the utmost level security.
Returned Merchandise Policy
All returns require an RMA (Return Merchandise Authorization) number, which will be provided to you at your request from our customer service department by calling 1-860-224-8812 or by emailing us under our contacts section under (Merchandise Returns). You may also submit your request in the area provided under the email listings section on the Contact Us page by filling the appropriate fields out and submitting the inquiry. Please use your custumer ID and order number when inquiring.
Save all packaging and accessories for any item that is returned to ABCO. All original equipment, components, manuals, cables, documents, and packaging must be returned with your item including the oringinal invoice in order for ABCO to process your RMA. An item returned for a replacement may be repaired or replaced at ABCO's discretion, unless otherwise required by law. Products with specific refund and return policies and deadlines must be returned within the time periods specified for each item. All items sold through ABCO/shop-abco.com are subject to our Terms and Conditions. Physically damaged items cannot be returned.
PLEASE NOTE:
Chemicals of all types may not be returned under any circumstance, as well as any safety related products that are OSHA certified. This policy has been instituted to ensure the quality and integrity of all chemicals and safety products sold by ABCO.

All returns for a refund are subject to a 15% restocking fee.

Removal or alteration of a product's serial number or serial number sticker or any other label will automatically void ABCO/ shop-abco.com's Return Policy. Products that are returned to ABCO with a missing, damaged or altered serial number or label will be refused RMA service and returned to you.

Standard Return Policy
Return for refund within: 30 days
This is our Standard Return Policy for shop-abco.com (site). Products sold by ABCO/shop-abco.com are covered by this Standard Return Policy. Merchandise under this Standard Return Policy may be returned a.) within 30 days of the original invoice date for a refund, or b.) within one year of the original invoice date for a replacement of the same item. All returns require an RMA (Return Merchandise Authorization) number. All items returned for a refund are subject to a 15% restocking fee. No RMA will be issued for any chemical merchandise or OSHA/safety related merchandise under any circumstance. Once your return has been recieved, we will refund your credit card for the amount purchased, a 15% restocking fee may also be applied if applicable. A more detailed description of this policy can be viewed at http://www.abco-wholesaledist.com/ under company policies, terms and conditions.

Consumable Items Return Policy
Return for refund within: non-refundable
Return for replacement within: 30 days (item must be sealed & unopened) Excludes chemicals, OSHA stamped safety products.


Physical Damage Policy
Physically damaged items cannot be returned to ABCO. If you return any physically damaged item to ABCO, the item will be returned to you at your expense.